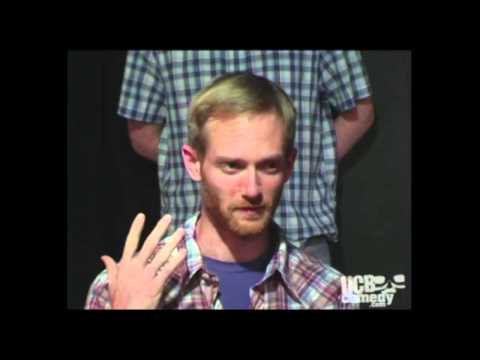 Anonymous asked: Hey Will, thanks for creating this tumblr. It's a great resource and much appreciated. I have 2 topics. 1. How is it that in my past classes I've done well, and felt confident, and yet in my current class I stink? It seems as if I've gotten worse. I keep thinking "well I'm sure glad I got all that bad out last week, now I can really do some work," and then I seemingly...
Anonymous asked: I'm an improv student with zero acting experience prior to taking 101. I've noticed most of my classmates have a lot of experience with acting, or act for a living. For some reason I never drew a connection between acting and improv, but I'm now wondering if my underdeveloped acting skills are inhibiting my improv. What is your opinion - are strong acting skills needed to be a...
Rave
I live in the most northern area of Brooklyn where there are a bunch of warehouses (all slowly being converted into dumbly expensive lofts and headquarters for things like Kickstarter and weird ventures like community garden social networks and probably a permanent studio for the show Girls) and every now and then there is a for-real old-school RAVE in these warehouses. And tonight is one of...
Audition Advice
iamachilles: I You We React Repeat funny thing Chill:
weirdlessbeardo asked: I have a show tonight. Can you give me some advice?
Anonymous asked: Sometimes at the start of the scene, there will be some virtually impossible-to-resolve agreement problem between the 2 or more people who stepped out. Now, if I'm on the backline, and I can think of a clever line that helps create agreement, then I'll walk on and do that. But, my question is: if I'm on the backline, and I see no way to help create agreement, are there any other...
justcraig asked: How much tongue should be used if you want to get a huge laugh by having two male improvisers make out in the last few seconds of a Cage Match show? Thanks in advance.
dustindrury asked: Why do you like putting limits on scenes and seeing how people play them? Is it because art without limitation is more difficult to achieve greatness? Is part of it because giving us a rule puts us in on an inside joke/rule/game and gives an immediate meta subgame to play?I love watching and doing these scenes, just curious what your intent is.
Anonymous asked: Thanks for answering my question about game vs. premise. I have to ask, would you have blown off that question in class because it's an inappropriate question to ask, or because you don't want beginners getting bogged down in semantics? Semantics seem to really matter at UCB. Inventing vs. discovering, game vs. premise, on game, off game, yes and vs if this then what. I get so many notes...
Anonymous asked: How do I stop trying to be clever? It's difficult to trust that things will work out into funny
Anonymous asked: Is it possible to "initiate with a game?" from an opening? Sometimes I hear teachers talk about doing that, and then other teachers say you can't have a game until someone reacts.
All the U.S. Presidents as improvisers
iamachilles: A follow up to a previous post. I spent way too much time on this. Read More
iamachilles: If I were to make an improv team from... →
iamachilles: George Washington: Patient, supportive, grounded, and a true leader on stage. Knows the right time to be aggressive, knows the right time to step away from the scene. Theodore Roosevelt: Charismatic. Can tend to go broad. Plays aggressively, but just short of steam-rolling so it works. Speaks…
"Good" Fighting?
This is my blog, right? So I can do something as shamelessly indulgent as just type out a scene I remember being in that made me laugh? This was in a Monkeydick (sorry yes, that was the team name) reunion show hosted by "The Lab" at Player's Theater in 2011 I think a week before DCM.
If it makes it any less indulgent, let me point out that I think it was my scene partner Matt DeCoster and John Gemberling on the backline who make this scene funny for me. It's also an example of "good" fighting, I think? At any rate, this made me laugh. If it's useless, you can all just summarily walk away, as that is the implied contracts you have with all blog entries.
Me: "Matt, could you proctor the SAT today? I'm supposed to do it but I accidentally made plans this weekend and can't do it."
Matt: "Sure, I'll do it. Doing anything fun?"
Me: "Linda and I are going to a B&B for our anniversary."
John Gemberling on backline makes a car honking noise.
Me: "Ah, there she is now."
Matt: "How do you know that's her?"
Me: "Excuse me?"
Matt: "How do you know that's Linda?"
Me: "You know, I don't know, I guess I just assumed."
Matt: "That seems pretty self-centered of you. Just any horn is the horn for you?"
Gemberling makes a different very distinctive old-timey cartoon car honking noise
Me: "Ah yes, THAT's her. I remember now, her car has that honking sound. Thanks for helping."
Matt: "No problem. Get to work on your narcissism!"
Something like that. I'm probably cleaning it up a bit, but this is close. Actually I think this scene ended with DeCoster coming with me and we got into an elevator and rode it in silence for a full minute, then the scene was edited? Improv is fun. NO RULES.
You Will Never Figure This Out
I mean this as a consolation: you will never completely figure out improv. Not forever, anyhow. You have a grasp on it for a few weeks, maybe even a few months, and then it moves away from you.   You stumble on a new exercise or a new mantra and can do no wrong. Decisive moves. Certain viewpoints. Audiences liking you right away. But then it just fades and you are lost again, searching for the...
How Can I Get Out Of My Head?
I get asked that question, or versions of it, a lot. Version of it include "I'm in a rut. What can I do?" or "I'm a class and it's not working" or "This practice group I'm in isn't working." There is no answer. But that didn't stop me from writing THREE THOUSAND words on it, God help me. God help me and everyone who reads...
natedern asked: What shows are you submitting to the 15th Annual Del Close Marathon this summer, June 28-30? Also, did you know that the deadline to submit is April 2nd? Could you please remind me of the link to the website where teams can submit and also remind me who created that nice website?
chriskula asked: Why come you never answer questions from Greg Rowan?
New Controversy
Not enough improv characters say "I gotta run this by the commish."
justcraig asked: Coaching question: In improv, if you're playing a coach who is addressing a team at halftime, what name should you give to the one player who you will be yelling at the most? Thanks.
Coaching Rates, Amended
I'm sorry for posting my last post hastily. I've woken up to many vet coaches either gently or in a diplomatically irritated tone telling me I'm missing part of the picture: the veteran coach part of the picture. I can see their point. Let me elaborate: A few qualifiers: 1) it's a free market. whatever you're paying, if you feel it's fair then it's fair....
Coaching Rates
[ADDED AFTER POSTING: This post was aimed at warning away from newer coaches who haven't yet earned the right to demand a higher rate. PLEASE SEE MY NEXT POST about veteran coaching rates] Coaches who charge a LOT are rarely the good coaches. You notice that yet? Yes, there's exceptions and stuff — you know it when there are exceptions, like if you get one of the very top people...
justcraig asked: That bird question earlier was not me. I do have a bird related improv question though: Which is the funnier bird to be talking about in an improv scene, "red-footed booby" or "squatter pigeon?" Thanks.
Mini-Rut
(written months and months ago) I don't want to do it anymore. I know I'll change my mind soon, maybe even after a single night's sleep but I want to capture what this feels like. Did Stepfathers tonight and my goal going in was to be less ego-driven. Less concerned about how I was doing, how funny I was — because that makes my defenses go up and makes me mean for no good...
Anonymous asked: If a scene calls for a bird (like a pigeon) and I'm on the back line, should I just put my hands together and flap them, or should I be the bird with my whole body?
My Goodbye Letter to Interning at ASSSSCAT
katiesimon: This Sunday marks the end of my 32 month internship at UCB. Doesn't even come close to rivaling the length of the most dedicated at the theater, but it's a pretty good run, and I've been the "oldest" intern for a little over a year now. So I wrote this big thing about working there. It might be interesting! Read More
ImPrOv REALsense!!!: Cage Match 2/14 - I DIDN'T... →
improvrealsense: Sorry, Earth, but I did not win my match last night at UCB Chelsea's Cage Match so I will not be advanced into 201. Here's a recap: I came out LIKE A BOSS! Everyone was reacting hard when they heard "I Just Had Sex" and saw my Paddy's Irish Pub shirt from "It's Always Sunny in Philadelphia, or as…
Improv Realsense by Johnny 101 →
This is a tumblr by a gentleman named Johnny 101, who has been in the first level of UCB improv since 1999. He blames me, and I would like to say for the record that I have nothing against him and wish I could in good conscience approve him for Improv 201, which I cannot. He writes jokes ahead of time, and they mostly involve quoting The Mask. He is wrestling in the WWUCBW match at Cagematch...
hotoscarsmattlaud asked: I'm having trouble with second game moves in my scene work - I'm in a stage of my improv education where I'm getting better at labeling and making things clear, and after an opening, I am getting the hang of initiating with a clear game. The issue for me is executing on that second step. I've had coaches remind me to explore the scene, to keep "if this is true, what else...
justcraig asked: When you're in a scene where there's a meeting with Japanese businessmen, what is the correct name for the Japanese company they represent?
weirdlessbeardo asked: In your opinion what's the difference between game and premise?
Know, Care, Say
So i just wrote about the danger or people trying replace the famous "improv rules." The "don't ask questions" and "avoid teaching scenes" and "don't be coy" type of rules. It's tough because the one thing the rules have on their side is that everyone remembers them forever. But here I go. I'm going to suggest replacements...
The Rules
A few thoughts on the appeal and danger of coming up with new "rules." Short version of this post: The rules are bad because they are not… quite… right. But they are great because they are memorable and they stick. Talking about these: Don't ask questions Don't fight Don't deny Don't do teaching scenes Don't do transaction scenes ...
Lying, Meanness, Stupidity
This is about the second line of the scene. Maybe the fifth line. For people who are kinda newish — like two or three courses in, maybe. When doing improv in front of an audience, and when you are starting with just a suggestion (as opposed to an opening which gives you more full ideas) you will feel a pressure to make SOMETHING HAPPEN. You'll feel the vagueness at the top and want to make...
Follow the Follower
Let it transform quickly. It should feel silly but not embarrassing because you're all doing it together. Commit. Give over to it. Follow the follower is a good metaphor of what happens in an improvised scene. Taking things from each other and making them stronger. Listening and observing from others is more valuable than thinking of awesome things. Let yourself break out of the circle. Everyone...
halphillips asked: Why is my instinct when giving a suggestion always to say some kind of food? (This is true regardless of whether or not I am hungry at the time.)
Anonymous asked: I have a crush on my improv teacher. He doesn't know. Have you experienced this? How do you handle it? Don't worry, it's not you. Tell the world your thoughts on this phenomenon. I'm staying anonymous to protect the innocent.
iamachilles: The PATH to being a good improviser! →
iamachilles: SymPATHy: ability to acknowledge and be open to your scene partner's offers and reactions! EmPATHy: ability to actively experience your scene partner's offers and reactions in the moment! TelePATHy: ability to know what your scene partner is "thinking" before they know it themselves! Group…
The Brave Choice
The right choice is often the brave choice. The character from the pattern game that you're scared of doing. The opinion you're worried the audience won't agree with. The object work you think that no one will understand. But you just commit and do it. You visualize your spine made of flexible steel.  Improv shows have a way of rewarding bravery. Maybe it's pragmatic: brave...
Watching Zip Zap Zop
I like watching people do zip zap zop. See the real world slip away. See them smile despite themselves.  They transform each other. The teacher doesn't have to say anything. They start off tentative, giggling, apologetic. And after 30 seconds —- which is nothing, that's NOTHING — they are more confident and brave. Maybe one time you say something. You say...
Most Popular Posts from 2012
As determined by the best of tumblr tool here's the most popular posts from this year: 1. Is Improv A Road to Nowhere? 2. Like-Minded People 3. Interview with Chris Gethard on Teaching Advice 4. You must appreciate the good in what you do. 5. You Go To Them 6. Empathy 7. Ways I Felt Involved at the UCB Theatre Enough! Edit.
Halphillips asked: What eight fictional characters...
Fun! Um, Sherlock Holmes - if-this-then-what, Ferris Bueller - acting,  Delirium - randomness,  Guadalupe (Love and Rockets) - voice of reason,  Captain Jack Sparrow - yes-anding Henry V - passion, group game initiations Chaplin's Tramp - object work, reactions Darlene Conner - wit, sarcasm  Alternate: Elektra Natchios - edits, assassinations (reformatted as a post instead of a question)
Billy Merritt's Improv Dance Party Pt2: Top 10... →
improvdanceparty: I gave a lot of notes this year, but these are some that I 've been empathizing a little more the others. One note is not more important then any other so they are not listed in order of importance. Quit improvising AT the scene, Improvise with who is on stage with you. Everything you do on… Zenny McZen Ying Yang bullshit
I AM SPO: 2013 Improv Resolutions for YOU →
spotastic: (THIS POST WILL ONLY MAKE SENSE TO SOME OF YOU) I started classes at The Upright Citizens Brigade Theatre (NYC) in 2000. Became a member of a house team in 2001. Started teaching in 2005. The past year or so I have noticed some pretty terrible habits that students and performers have developed….
The Chris Gethard Show: For Gethard: BadSandwich... →
thechrisgethardshow: This is my favorite question that's ever been sent to this tumblr. It's been in the inbox for months as I formulate my thoughts on how to answer it. Tonight I'm home with the flu and it seems like as good a time as any to buckle down and try to give my honest opinion on this one. First off - I…
You must appreciate the good in what you do
Beating yourself up is easy and natural for an improviser. You must learn to see the good in the scenes you do and hold onto it. It is an essential tool of getting better and an emotional survival skill. You will do many scenes like this: Suggestion: "dartboard." Already, you're panicking. Should I just play darts? Is that too obvious? No, you decide, you're in a bar. Phew. Okay, I'm playing...